AgrAbility: 30 Years of Impact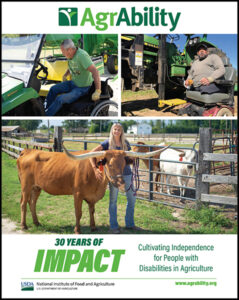 National AgrAbility recently released AgrAbility: 30 Years of Impact. Among the highlights are a timeline of the program's history, descriptions and statistics related to AgrAbility's major initiatives, and 13 client stories (many with video links) that illustrate the ways that AgrAbility can improve quality of life and cultivate independence for people with disabilities in agriculture.
USDA's National Institute of Food and Agriculture has supported AgrAbility for more than 30 years. The program is also grateful for its other supporters, like CHS Foundation, Farmer Veteran Coalition, Farm Credit, NEC Foundation, and ButcherBox, to name just a few.
You can download a PDF copy by clicking here and access a screen-reader friendly version here:
View client success stories below.
You might also be interested in AgrAbility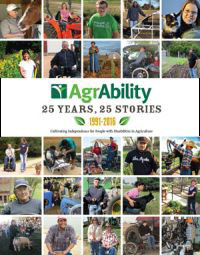 1991 - 2016: 25 Years, 25 Stories. To celebrate AgrAbility's 25th anniversary, the National AgrAbility Project highlighted 25 of the thousands of stories that illustrate how the program has impacted the lives of people all around the nation, and even those in other countries. Click here for a PDF copy.