Marvin Van Beek: Finding a Way to Get It Done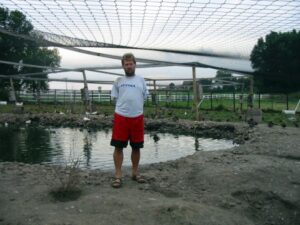 Marvin Van Beek has farmed near Inwood, Iowa, for most of his life. That didn't change after the father of four children lost both arms in a power take-off.
"Marvin is the epitome of an Iowa farmer," says Tracy Keninger, director of Easterseals Iowa Rural Solutions Program, an AgrAbility affiliate program. "Tenacious, driven, literally nothing stops him. Marvin had lived and worked independently for years, but there comes a time in life when farmers need additional help. That's where the Rural Solutions Program steps in."
In the early 1990s, Chuck Larson, an Easterseals Iowa rural rehabilitation specialist, stopped to see Van Beek. Later Larson helped him set up a game farm and eventually helped him switch over to raising sheep.
"He has all the courage in the world to progress and be successful," Larson says. "And that's what he's done."
However, as Keninger points out, "Marvin's solutions weren't always long-term, since they were so taxing on him." For example, as Van Beek pointed out, "I carried buckets with my teeth—I could lift 120 pounds."
Easterseals Iowa helped him set up automatic feed and watering systems. "The great thing about Easterseals is there's no limits on length of support," Keninger says.
Two years ago, Van Beek began work at Hope Haven part-time as a job coach for people with intellectual disabilities. "I like to see other people succeed," he says. "There's going to be a lot of people who tell you that you can't do something. My attitude is to prove them wrong."