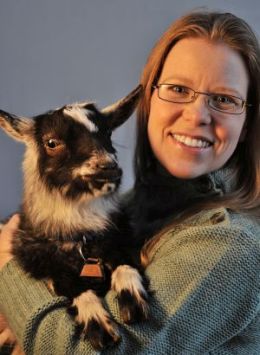 Shea had an abusive childhood, living constantly in fear. As an adult, she experienced extreme anxiety and was diagnosed with PTSD. Over time, she says, "I became less and less able." However, Shea had always found comfort in animals, and they became key to her recovery. She started with six chickens and then added a small herd of dairy goats. "As my farm grew, I began to change. Being outside made me feel better."
In 2013, Maine AgrAbility visited Shea's farm. "They made several suggestions that made a huge difference in my day-to-day operations." Some implemented ideas included alternate watering methods, ergonomic redesign of the milking parlor to accommodate both her needs and the goats' varying heights, and a video surveillance system to reduce her anxiety when she isn't in the barn. Shea also created an organized, enclosed space in her home for her farm business. "My asthma is under control and muscle spasms have almost disappeared. I continue to struggle with anxiety but I have hope, based on the vast improvements in my other health problems."
Today, Shea's farm is the center of her life, with a growing business in making and selling goat milk soap. "I am living the life that I am supposed to live. I need to farm. I need to care for animals. I need the daily physical activity that is integral in farming. This gives my life meaning and makes me feel good at the core of my being."
More AgrAbility: 25 Years, 25 Stories