Green Thumbs, Healthy Joints: Powerful results through accessible gardening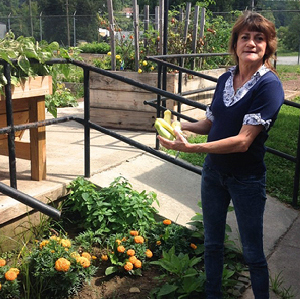 Gardening is one of America's most popular hobbies and a significant food source for many. However, for those with arthritis and other musculoskeletal conditions, like osteoporosis, common gardening tasks can be difficult or impossible. That's why, in 2007, West Virginia AgrAbility partnered with the West Virginia Assistive Technology System, with funding from the West Virginia Bureau for Public Health, to establish Green Thumbs, Healthy Joints (GTHJ), a program to establish accessible gardens in their state.
Each year, GTHJ awards grants to nonprofits for gardening projects to cover the costs of raised beds, accessible walkways, benches, and other adaptive features. The requesting groups are required to spend part of the money on assistive technology that can make gardening tasks easier, like ergonomic tools, knee pads, gloves, garden stools, and carts.
Since its inception, GTHJ has funded more than 120 projects in West Virginia communities, with groups having created accessible gardens at senior centers, homeless shelters, low-income housing complexes, public parks, and community centers. "The seniors are now enjoying fresh salads to go along with their lunches," said one group. To date, 75% of counties in the Mountain State have had at least one project.
Volunteers are the heart of the program. In 2015, projects reported that 323 volunteers donated 2,882 hours of community service. One project shared the story of a volunteer whose self-esteem thrived as she learned to grow vegetables in the garden: "As her plants bloomed, she began to bloom as well."