R.D. Elder: A "hand-up" from AgrAbility helps him continue farming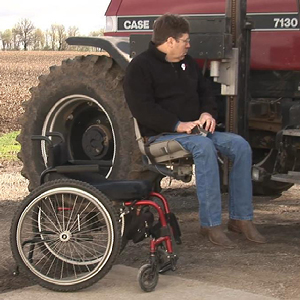 In 1983, R.D. Elder was only 19 years old when his pickup skidded on a rain-slick Illinois highway. The resulting crash caused a spinal cord injury and paralysis from the waist down. The idea of not returning to farming was never an option for R.D., but the know-how for returning was yet to be acquired.
Although his injury occurred nearly a decade before AgrAbility started, R.D. knew a fellow farmer in his county, Don Skinner, who had been paralyzed in a grain bin fall but had continued farming successfully. Visiting with Skinner gave R.D. the confidence and knowledge to construct his own version of a lift that would get him back into his tractor.
Illinois AgrAbility, one of the inaugural state projects that began in 1991, was later able to help R.D. connect with Illinois Vocational Rehabilitation, which purchased for him a commercially-manufactured lift for his tractor. This technology, and others like a utility vehicle, have enabled him to continue his successful row-crop enterprise.
"Farmers want a hand-up, not a handout. AgrAbility gives you technology resources and provides valuable information. They're here to help and always ready to get you started," he says.
Watch R.D. in action on his farm.