John Hancock: Experiencing AgrAbility in all of its facets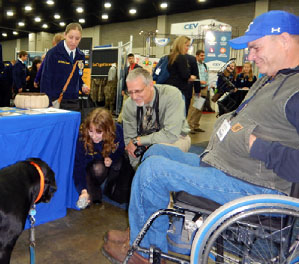 Disability wasn't on John Hancock's radar screen as young agricultural Extension agent in Fulton County, Kentucky. However, in the summer of 1984 at the age of 24, Hancock was involved in a motorcycle crash that left him with paraplegia.
After a period of extensive rehabilitation, John returned to work, but the course of his mission had been forever changed. Hancock eventually accepted a call to work with the Breaking New Ground program at Purdue University, an early model for AgrAbility, where he learned about technologies and other accommodations for farmers with disabilities, and assisted in outreach activities.
Two years later, John returned to Kentucky to share what he had learned. "People without disabilities need to become more aware of how much someone with a disability can do if he or she gets the right rehabilitation training," he said. "A farmer with a disability may do farm chores a bit differently, but what's important to remember is that he can still do them."
Soon after the USDA launched the AgrAbility Program in 1991, Kentucky won a grant to establish that state's AgrAbility Project. Hancock began as the project's first director in 1993 and continues in that role today.
John considers the most important part of his work to be the one-on-one assistance that he provides to farmers. "Just like I was able to return to my job, a farmer who becomes disabled can return to his farm," said John. "He may need a bit of help here and there, but for the most part he is able to grow anything from a garden to thousands of acres…."
The video below from USDA shows John providing some of that one-on-one assistance to a Kentucky AgrAbility client.
[youtube video=nrNNKRtqkbM]