Todd Haagen: Farming's in His Blood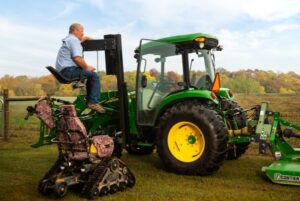 Todd Haagen lives and works on his family's four-generation farm in Madison County, Georgia. He doesn't take his role in the family business for granted, either. A spinal cord injury at age 24 made that role even more challenging.
"My great-great grandfather started it and passed it down," he says. Haagen has been raising sheep on 25 acres of the original farm since 2014. "But my dream always was to be able to get back on the tractor again. So, in 2016, I decided I was going to try to make it happen."
After his equipment dealer told him about AgrAbility, he met with university staff at AgrAbility in Georgia to make a plan to equip his tractor with hand controls. He also got a boost from a lift attached to his cab tractor, allowing him to hook it up to a Jiffy Hitch with a PTO system, back up, and hook up to a bush hog or use a harrow.
"I never have to leave the tractor or get someone out there to help me," he says. Haagen describes his Action Trackchair as "the greatest thing" to help him to move around the farm to do his work. "If there's one thing I couldn't live without, this would be it," he says. "You can go anywhere and work on anything you want to."
During AgrAbility's Virtual State Fair in 2020, Gary Black, Georgia Commissioner of Agriculture, visited with Haagen on his farm. "Let's take technology, let's take what we're capable of doing, and enable people," Black said. "The AgrAbility program uses technology to enable farm people to fulfill what's in their blood."