Jesse Bell: Overcoming the Odds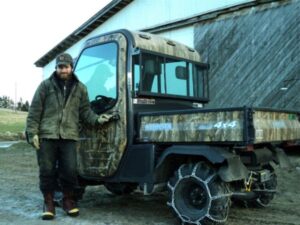 Tide Mill Organic Farm in Edmunds, Maine, has been home to the Bell family for over 200 years. Jesse Bell was born into the eighth generation in 1980. Diagnosed with autism, he spent three weeks in the hospital as a newborn. Thanks to occupational and physical and speech therapy, plus clear goals set throughout his education plan, he attended school and successfully transitioned to becoming an independent, contributing member of the farm.
Some of this success can be attributed to Maine AgrAbility since Jesse's family reached out to the project for advice to improve his independence on the farm.
Maine AgrAbility recommended adaptations to his routine, including use of a utility vehicle to get around. He has since moved up to driving a jeep to get from one end of the farm to another. Jesse's chores range from operating the wood splitter to milking cows, cleaning the barn, sterilizing the milking machine, and moving cows from pasture to the barn for milking.
Another adaptation was the creation of a checklist. As long as Jesse has a sequence, he can learn it, and once he learns it, he never forgets it. Today Jesse lives independently on the farm, in his own home, with his cat, Rachel Ray. He volunteers to donate his rare blood type and for the Autism Walk. Jesse leads a fulfilling life on the farm, working as an integral part of the next generation of Maine farmers.