Farmworkers Learn 5 Healthy Steps: Raising Awareness One Step at a Time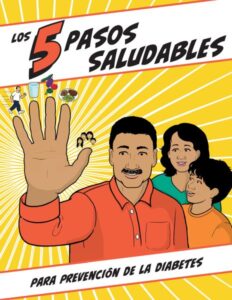 Latino farm workers in the U.S. face daily risks, but now one less well-known health risk is gaining attention: type 2 diabetes. During outreach events and site assessments with Latino farmworkers, California AgrAbility staff identified the need for a tool that these workers could use to help them manage their diabetes. They then partnered with the Western Center for Agricultural Health to produce an educational tool in a format popular with farmworkers: the fotonovela.
"The incidence of diabetes in the Latino community is high, and we're trying to fill a gap," says Teresa Andrews, UC-Davis Education and Outreach Specialist. "Nobody can control what they don't understand. The novella aims to empower people to understand what diabetes is, why it develops, and how to prevent it or control it—the 5 healthy steps. The comic book format is easy to read, as its science-based information is explained in a conversational way."
The 5 Healthy Steps for the Prevention of Diabetes is written in Spanish and English. This 41-page fotonovela with an attractive four-color cover features the story of a Latino man with unhealthy eating habits.
His conversations with family members and other characters raise the need for awareness of the following five healthy habits:
Stay physically active
Drink water instead of sodas and sugary drinks
Eat vegetables and fruits
Measure your food portion
Share this lifestyle with loved ones
The fotonovela also contains helpful tips on things like risk factors, heart disease, portion control, and healthy recipes. Download a copy of the fotonovela here.