Wyatt Fuss: Disability can't rob this farm boy of his dreams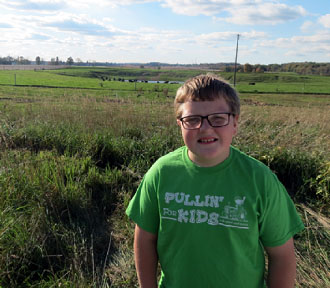 Like most farm kids, nine-year-old Wyatt Fuss loves being outside, sharing in chores, and especially being around equipment and tractors. However, unlike most other youth, Wyatt has spinal cord tumors, growths on the interior lining of his spinal cord that create pressure on nerves that affect all parts of his body, including those that control breathing and swallowing. For now, the tumors are dormant, but if they begin to grow unchecked as in the past, they could literally choke him to death. Wyatt also has significantly diminished feeling in his arms and hands, and he isn't always aware of pain from an injury. A simple task like putting on gloves is impossible without help.
Wyatt personifies the reality that disabilities can occur at any age, and AgrAbility helps farm families in any stage of life. Gloves with zippers and Velcro on the back were one solution that Michigan AgrAbility offered to help make Wyatt more independent.
There is currently no cure for Wyatt's condition. To help with research, the Fuss family started their own fundraising event – Pullin' for Kids – a farm fun day that has raised nearly $100,000. "We had to do something," Wyatt's mother Jen said. "We couldn't just sit around and cry." She added, "Having AgrAbility here to help is very comforting. It does so much more than just trying to keep us farming."
Check out this short video of Wyatt helping with chores on the family farm.
[youtube video=9CcnOf3Xm1A]