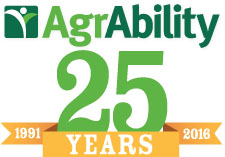 Consider celebrating AgrAbility's 25th anniversary with us through the following events:
AgrAbility will host a 25th anniversary celebration on July 12 in conjunction with the annual conference of the Rehabilitation Engineering and Assistive Technology Society of North America (RESNA) July 10-14 in Arlington, Virginia. RESNA and AgrAbility are long-time partners, and two of the first AgrAbility national conferences were held in conjunction with RESNA annual meetings. A celebration luncheon is planned for Tuesday, July 12. For more information contact us.
Monday, September 19 is AgrAbility Day, as part of National Farm Safety and Health Week. Consider posting social media about AgrAbility Day or plan an event to commemorate the day.