Life Essentials: Technology and inspiration to keep farmers working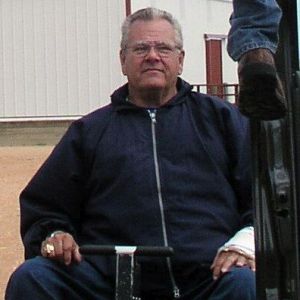 In 1943 at the age of five, Hubert Von Holten contracted polio. However, his physical limitations didn't stop him from becoming a successful business owner, inventor, and entrepreneur. He was also a farmer, growing approximately 450 acres of corn and soybeans.  While he could accomplish most farm tasks without help, the machinery was getting taller and more difficult to climb. So, in 1975 at his Round Grove Machine Shop, Hubert built a platform lift to raise himself to the cab of his combine. That was the start of Life Essentials.  News spread about Hubert's work, and he was soon collaborating with the Breaking New Ground program at Purdue University and producing lifts for other farmers.
Today, Hubert and his staff travel all over the U.S and Canada installing lifts on tractors, combines, berry pickers, bulldozers, tree harvesters, and many other machines. In all, Life Essentials has put lifts on over 3,500 pieces of equipment. They also produce and install technologies to get people on horses, into airplanes, and onto recreational equipment.
The impact of Life Essentials reaches far beyond machinery: it really deals in changed lives.  When Hubert meets with clients, his disability is not a barrier but a bridge – an example to show that their life isn't over and that they can still do the things they did before, just differently.   When accessing their equipment for the first time since their injury, his clients return to a world they thought they had lost forever.