Ed Bell: Adapting through fiery trials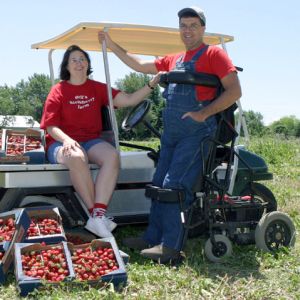 In his own words, Ed Bell of Hagerstown, Indiana, is "a man of many hats": family man, farmer, motivational speaker, consultant, and more. But he has also been a man of many trials, such as the incident in 1982 when he was attacked and shot, resulting in a spinal cord injury and paralysis just below his arms. He and his family also endured a fire in 1995 that destroyed their home.
However, Ed has learned the art of adapting, and his challenges have resulted in strength rather than despair. When paralysis ended his goal of raising hogs, he switched to strawberries, which as he says, "are easier to handle and better smelling."  Later, he added asparagus and Doberman puppies to his list of enterprises. The Bells were also able to replace their old log home with a new accessible one.
Today, the Bells' operation continues to thrive. They were named Indiana Farm Family of the Year in 2006, and Ed was one of 17 featured farmers during the 2015 Indiana State Fair. Not only has Ed succeeded in agriculture, but he is also a nationally-recognized speaker, representative for the Standing Wheelchair Company, and consultant for AgrAbility.
Ed says of AgrAbility's impact on his life, "They've showed me that I may not be 'normal,' but I'm average.  I'm an average farmer, and I just happen to have a disability; I can still work and support my family in agriculture."