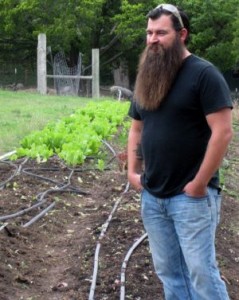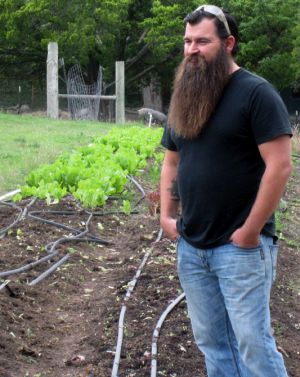 After nine years of active duty in the Army, including two tours in Iraq, James Jeffers came to realize that he needed a career change. Recurring health issues, including the aftermath of traumatic brain injuries, were taking their toll, so he opted for medical retirement.  Shortly afterward, in an effort to "fix" his system, he began eating healthier and learning about organics.  Motivated by fellow veteran Steve Smith, James tilled up his back yard and began gardening.  "It was everything I needed. It was physical therapy. It was mental therapy. I was learning something new every day."
When opportunities opened up to sell produce to local restaurants in the Dallas area, he and Smith founded Eat the Yard, an urban agriculture enterprise. Their "farms" include plots at residential and commercial properties, community gardens, and even a few rooftops. Their crops consist of various kinds of produce, primarily leafy greens.
As Jeffers and Smith saw fellow veterans being lost to suicide, they decided to expand beyond their commercial operation to create FARM – Farmers Assisting Returning Veterans – a nonprofit to assist veterans at risk of suicide, homelessness, or chemical dependency. Vets work on the farm and receive in-house therapy. FARM also collaborates with Texas AgrAbility.
"I think farming is a great option for veterans because…we are not afraid of hard work. And we won't quit. It's good meaningful work, and it's also the next mission."
More AgrAbility: 25 Years, 25 Stories