Articles and videos about farmers and ranchers with disabilities who have overcome barriers with AgrAbility's help.
Publications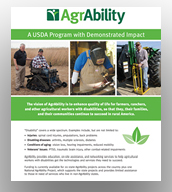 AgrAbility: A USDA Program with Demonstrated Impact is a 4-page publication, contains a basic description of AgrAbility's services, key statistics about the program's outreach and impact, and a success story of a program client. Featured is a recent study that indicates a significant increase in quality of life and independent living and working levels for AgrAbility clients as compared to farmers with disabilities who had not received AgrAbility services. Click here to download PDF.
Articles
Determination in Motion. Originally published in Seedstock Edge magazine, this is the story of Mark Hosier and his rebound from a spinal cord injury.
Gaining Ground. Originally published in Purdue's AgriCultures magazine, this article focuses on Mike Williams and his battle with arthritis and chronic pain.
What AgrAbility Means to Me videos
Videos of people who have been impacted by AgrAbility and their testimonials. All videos may be viewed directly via our YouTube channel.