AgrAbility recognizes the immense potential for rural youth to excel individually and contribute to their communities. Therefore, the Project seeks to:
Make lifelong changes in the worldviews of rural youth by exposing them to principles and examples of disability in agriculture
increase disability awareness and foster the acceptance of peers with disabilities
Encourage and empower rural youth with disabilities by providing them with vital resources concerning assistive technology and other disability-related resources
Supply rural youth with relevant information to share with family members, neighbors, and other community members with disabilities
Provide encouragement for community service projects, by such groups as FFA chapters and 4-H groups, to assist people with disabilities
Assistive Technology Curriculum for Rural Youth
People with disabilities rely on assistive technology. Various tools, machinery, and other devices can provide vital assistance with work, mobility, and many other aspects of life.
Purdue University's Breaking New Ground Resource Center, with financial support from NEC Foundation of America, has sent every FFA Chapter in the U.S. a free, three-lesson Assistive Technology Awareness/Education Program for Rural Youth.
Teach your students about assistive technology. In addition to increasing awareness, it may have direct impact for them, their families, or others in their communities.
The curriculum kit includes a printed teachers guide, three lesson plans with PowerPoint presentations, and classroom poster on assistive technology.
View video introductions for each lesson (or click here for closed captioned videos):
Lesson 1: Tools and Technologies in Agriculture
Lesson 2: Principles of Assistive Technology
Lesson 3: Disability Awareness
Get Windows Media Player (if needed)
Instructor files
Inclusive 4-H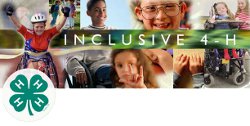 Wyoming AgrAbility has made inclusive 4-H resource materials available with
An overview explaining the benefits of including young people with disabilities in 4-H programs and activities;
16 youth with disability fact sheets, each explaining a particular disability, how the person copes, and how educators and leaders can work with the young person;
Volunteer and leader training materials.
Bridging Horizons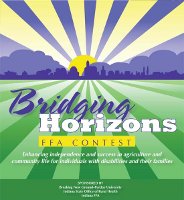 The Bridging Horizons challenge is for FFA chapters to complete low-cost projects in their communities that enhance independence and promote success for people with disabilities.
Your FFA chapter may be eligible for a grant of up to $3000 for a community service project through the FFA Living to Serve Program.
Perfect Fit Kit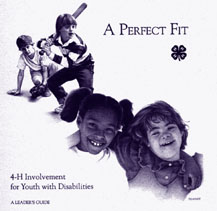 This 11-minute video kit provides insight into the lives of young people with disabilities who were involved in 4-H, and their parents. Explore success stories, discover parents' perceptions, and hear from a volunteer leader with disabilities. Also included in the kit is a leader's guide and two brochures that describe the benefits of involving youth with disabilities in 4-H. Available in VHS videotape or DVD. Contact us to order a copy.