Back problems are consistently the most common disabling conditions reported by AgrAbility clients. In fact, back problems are some of the most common complaints by workers in all industries, and they often result in lost work time. While back problems are challenging, they can be managed.
BACK on the Farm, BACK in the Saddle: A Guide to Back Health in Agriculture
This 21-page booklet discusses many aspects of back problems in agricultural settings, including: types of back problems, causes of back problems, preventing back problems, managing back problems, and treatment for back problems.
Contact us for information on obtaining paper copies of the booklet. Please include your mailing address.
Back health resources from Arkansas AgrAbility
The AgrAbility Project in Arkansas developed low back injury resource packet that covers stabilizing approaches, such as modified work practices and exercises targeting the trunk and core to help reduce the risk of developing low back pain.
Plowshares #26 – Farming with a Back Impairment
This 12-page technical report, published in 1997, discusses many topics related to back problems in agriculture and includes several case sudies.
Ohio AgrAbility Fact Sheet:
Simple Solutions: Ergonomics for Farm Workers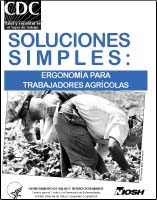 This publication from the Centers for Disease Control and Prevention provides basic information on ergonomics for farm workers and includes tip sheets for making low-cost tools and modifications.