NTW: changes create opportunities
Necessity is the mother of invention, and like many programs, AgrAbility found that the pandemic necessitated many innovations and "inventions." Such was the case with the National Training Workshop (NTW), which is normally an "in-person-only" event. After the NTW was first postponed and then ultimately cancelled for 2020 – and with an uncertain prognosis for an in-person 2021 NTW – AgrAbility's NTW committee determined that the best option was to move previously-accepted 2020 presentations to virtual presentations in 2021.

The result has been an expansion of AgrAbility's educational impact to those who would not have participated in the in-person event. Thus far, more than 650 people have registered for the NTW virtual sessions, and 22 weekly presentations have been conducted with an average attendance of 70, far exceeding the typical attendance for an in-person session. In addition, the sessions have been recorded and archived at www.agrability.org/online-training/archived for continued on-demand use long into the future.

While AgrAbility still believes that an in-person NTW is essential for face-to-face networking, team building, and hands-on education, pandemic-induced technology adoption has opened new options for expanded outreach.
FRSAN expansion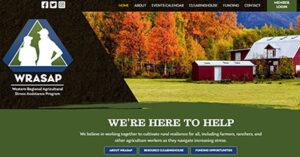 In the last edition of AgrAbility Harvest, we mentioned that USDA had invested $10 million in 2019 to fund four regional Farm and Ranch Stress Assistance Network (FRSAN) centers that cover all U.S. states and territories. During 2020, USDA greatly enhanced the network's potential to provide stress-related assistance to agricultural workers by committing $28.7 million to four regional FRSAN centers for three-year grants:
North Central Farm and Ranch Stress Assistance Center: Engaging Programs to Support Producer Wellbeing – University of Illinois, Urbana, IL: www.farmstress.org
Building an Inclusive and Comprehensive Network for Farm and Ranch Stress Assistance in the Northeast – National Young Farmers Coalition, Hudson, NY: www.youngfarmers.org/frsan-ne-about
Farm and Ranch Stress Assistance Network: Southern Region – University of Tennessee, Knoxville, TN
Western Regional Agricultural Stress Assistance Program – Washington State University, Pullman, WA: www.farmstress.us
Each center comprises a coalition of organizations, including state Cooperative Extension agencies and various ag-related organizations, to deliver its services. Core services for each include
farm telephone helplines and websites
training, including training programs and workshops
support groups
outreach services and activities, including the dissemination of information and materials.
NAP has established a FRSAN page at www.agrability.org/resources/frsan with contact information and more for the centers.
New AgrAbility project grants
In addition to the new National AgrAbility Project grant mentioned on p. 1, the following state projects also received four-year grants: AgrAbility for Pennsylvanians, Indiana AgrAbility, Ohio AgrAbility, and Tennessee AgrAbility Project. Congratulations and best wishes to all these project teams!