Low-tech agricultural AT can be defined as any device that can be fabricated with readily available parts and materials, simple to use with minimal training, inexpensive to create, and practical for farm use. Below are just a few examples of products, both commercially available and homemade, that fall within that definition.
NAP is also planning to add a new feature to The Toolbox that specifically identifies low-tech AT within the database.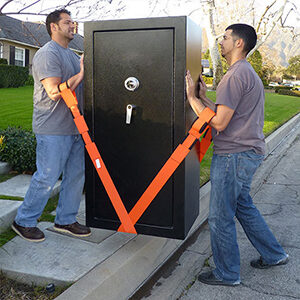 Forearm Lifting Straps are long, padded straps designed to allow two people to lift and carry a heavy, bulky object more easily. The strap, which is run from under the object up to and fastening around each forearm, creates a 45º angle that maximizes lifting/carrying strength by redirecting the object's weight from the arms to the legs. Straps can be adjusted to accommodate the object's and persons' height. (Visit www.forearmforklift.com)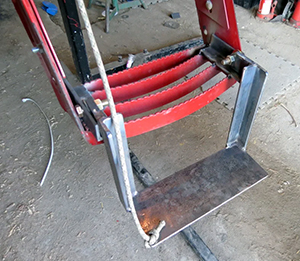 Fold-Up Added Step (Online Plans). An extra step below the bottom one on a tractor or combine can help reduce strain on the knees when climbing on/off the machine. These plans include a list of the likely on-hand items needed to build the step plus text and photos on how it's made and mounted. So as not to pose a clearance problem while driving, the step is flipped up and down via a rope. (Visit http://tinyurl.com/added-step)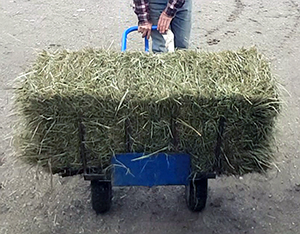 Hay-Bale Dolly (Online Plans). Carrying hay bales can be a struggle for those with back, leg, and arm impairments. With this dolly, one can both lift up and transport a single bale with reduced effort. The plans include a list of the supplies needed, text and photos on how to assemble it, and video showing how it works. (Visit http://tinyurl.com/hay-dolly)

Walk-In Livestock Feeder. This type of feeder extends from the pen fence into the pen, with hog panels blocking off the back end; and it's wide enough so that one can enter carrying feed buckets. The fences on both sides are gapped in such a way that the hogs can get to the feed but not into the feeder. This design would work for other types of penned livestock.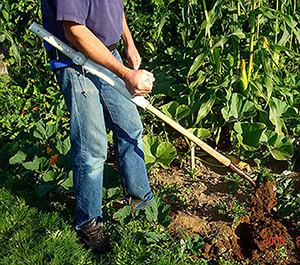 Homemade Single-Arm Gardening Equipment (SAGE) includes standard hoes, shovels, rakes, pole pruners, etc. that are modified to accommodate the needs of persons with one arm or limited mobility on one side of the body. Utilizing a support belt with a pivot bolt plus a handle extender (made of items available from any hardware store), these adapted tools improve posture while reducing stress of the wrist and back. (Visit www.rgat.net )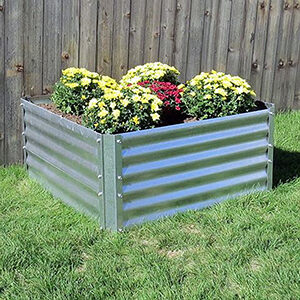 Raised Garden Beds. Although the commercially produced bed pictured here is corrugated steel, garden beds can be constructed of many types of material (often already on-hand), such as wood, bricks, pieces of sheet metal, (even old refrigerators or chest-type freezers), and can be of any dimension and height. (Visit http://tinyurl.com/gardening-raised)
* The authors assume no liability in connection with any use of the products discussed and make no warranty (express or implied) in that respect. References to products are not intended as endorsements to the exclusion of others that may be similar.