A COLLECTION OF ASSISTIVE TECHNOLOGY PRODUCTS IN AGRICULTURE
The Buzz about Bees
Beekeeping is increasingly popular, both as an agricultural enterprise and as a hobby. Touted as a benefit to the environment, beekeeping can also be financially profitable. And it's not limited to rural areas, as beekeeping is expanding in cities and suburbs. Here are some tools to make the job less physically demanding.
Drebbieville Hive with Slide-Out Frames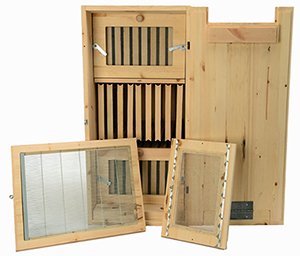 An alternative to the common Langstroth, this hive eliminates having to lift heavy, honey-filled frames because these frames slide out from the rear. The Drebbieville includes 30 AZ frames, interchangeable queen excluder and separator/blocker, bottle feeder, entrance reducers/blockers, and screened windows with reversible latches and door. (Visit www.thebeeshop.com)
Horizontal Top-Bar Hive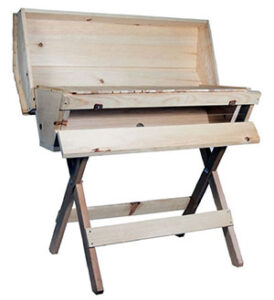 This is a single-story, frameless hive in which the comb hangs from removable bars. Having only one box, it requires no heavy lifting or extra equipment. Its sloping wall allows the comb to be built in a manageable size and discourages comb attachment to the wall. Harvesting involves simply cutting off the comb, leaving a space for the bees to rebuild. (Visit www.tinyurl.com/ top-bar)
Electric-Heated Uncapping Knife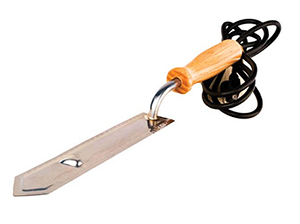 For many (especially those with limited hand strength), this is the tool of choice for removing the honeycomb's beeswax cap to begin the ex­tracting process. It has a thermostat in the blade that heats it to a pre-set optimum temperature to help it easily glide down the comb. The tool is 10-12 inches long with 2-inch-wide, double-edged, serrated, stainless steel blade and wooden handle, plus 8-10 foot grounded electrical cord. (Visit www.tinyurl.com/uncapping-knife)
Manual Hive Lifter/Mover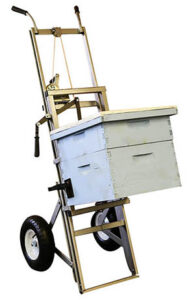 This two-wheeled, dolly-type lifter/ mover is designed to reduce the physical effort required to hoist and transport a hive. To operate, one centers it so the gripper arms contact the hive on both sides, low­ers the fastening lever so the arms squeeze the hive, cranks the handle to lift the hive, then leans the tool back to transport or stack the hive. (Visit www.beehivelifters.com)

Hummerbee Apiary Forklift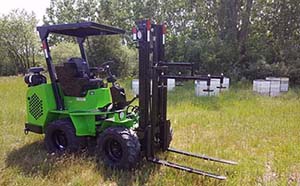 Designed to move pallets of hives over rough terrain, this four-wheel drive, articulated, diesel-powered forklift has a two-speed hydrostatic transmission/ hydraulic system. It features a 10 1/2-foot mast lift, joystick mast controls, 42-inch forks, ROPS, LED lights, and optional acces­sories. (Visit www. hummerbee.com)
Bucket-Bench Pail Holder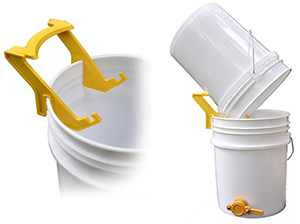 This device allows for the hands-free transfer of slow-draining honey from one container to another. It attaches to the lip of the honey-receiving bucket; then the honey-containing bucket is lodged into the two integrated hooks, which results in a 45º tilt for the draining process. (Visit www.tinyurl.com/ pail-holder)
* The authors assume no liability in connection with any use of the products discussed and make no warranty (express or implied) in that respect. References to products are not intended as endorsements to the exclusion of others that may be similar.