Coming: new diabetes booklet for farmworkers
California AgrAbility is collaborating with Dignity Health and the Western Center for Agricultural Health and Safety to develop a Spanish-language educational booklet (foto- novela) on farming and diabetes.

California AgrAbility staff members often see program participants having diabetes in combination with a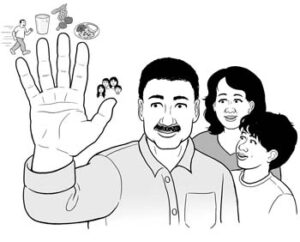 rthritis. Although there are many resources on diabetes, few focus on farmworkers.

The fotonovela covers a variety of subjects, including a definition of diabetes, its signs and symptoms, and how to manage one's health while living with the disease. At the end of the fotonovela are examples of proper portions for each food group, healthy recipes, and an expla- nation of blood sugar measurements through the A1C test.
The publication is expected to be available later in 2019 and should be available through CalAgrAbility's website (https://calagrability.ucda vis.edu/).
Texas "BattleGround to Breaking Ground" program helps veterans
Texas A&M AgriLife Extension and staff from Texas AgrAbility are co- ordinating a program focused on helping veterans start agricultural businesses. Called "BattleGround to Breaking Ground," the initia- tive's goal is to increase the number of veteran and other new and beginning fa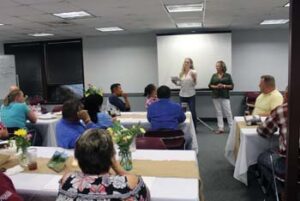 rmers/ranchers in Texas through several means: face- to-face and online educational training in farm management and production-specific agriculture practices; individualized educational planning and guidance to support diverse agriculture business interests; hands-on learning opportunities connected to online course content; and peer-to-peer mentor support. Additional benefits include help in applying for other programs and funding grants, disability-specific technical assistance, and access to a network of veteran farmers/ranchers and veteran support organizations. 
The program, funded through the USDA/NIFA Beginning Farmer Rancher Development Program, recently welcomed its fifth cohort of veterans, who started with a three-day basic training session. For more information, email txagrability@gmail.com.
Help for deaf and hard of hearing farmers
The National AgrAbility Project has seen increasing interest from deaf and hard of hearing farmers, as several have been attending the National Training Workshop in recent years. One such individual, David Galyean of Washington state, has started a Facebook group called "Farming Association for Deaf, Hard of Hearing."
The group's stated purposes include educating deaf/hard of hearing farmers and gardeners about how to establish their enterprise and about how to plant, harvest, and preserve their crops. The group also seeks to encourage its members in their efforts to acquire the land, structures, and equipment necessary for successful agriculture.
To participate in the group, search "Farming Association for Deaf, Hard of Hearing" on Facebook and click "Join Group."
New report on agricultural access lifts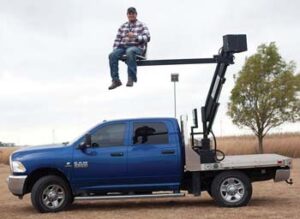 For farmers with mobility impairments, lifts to get them into agricultural machinery can be a lifeline for continuing their livelihoods. Given the importance of these devices, the National AgrAbility Project (NAP) has produced the 12-page Plowshares Technical Report, "Agricultural Machinery Access Lifts: Design, Utilization, and Safety Issues." Topic areas include lift design and selection, lift styles and mounting types, and safety concerns. The publication can be downloaded in PDF format from www.tinyurl.com/agrability-plowshares. For information on obtaining printed copies, email the NAP at agrability@agrability.org.