Alaska
When you think of Alaska, mountains, wildlife, and snow probably come to mind: farming, not so much. Although there are only about 760 farms in Alaska according to USDA1, agriculture is still important to the state's economy, especially when fishing and logging are considered.
Alaska's top agricultural commodities include greenhouse and nursery products, hay, dairy products, potatoes, and cattle/calves. The state also leads the nation per capita for farmers market growth, and its fish catch is the most valuable among the 50 states.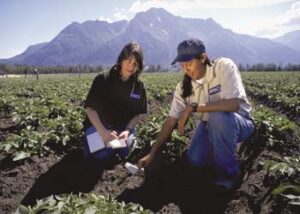 Alaska AgrAbility got its start, surprisingly, through Tennessee AgrAbility's 2017-21 grant. Part of Tennessee's activities was to introduce AgrAbility into Alaska using the Tennessee State University "Tennessee New Farmer Academy" as a model program to develop agricultural business skills. Alaska AgrAbility plans to adapt that program to its own climate, culture, and agricultural conditions.
One of every ten Alaskans is a veteran.4 Therefore, one of the Project's key objectives is to assist veterans with disabilities in obtaining employment. A series of workshops are being designed to introduce agriculture/horticulture to veterans as a possible career choice, develop networking among veterans, and offer ways to help veterans manage stress.
New Mexico
New Mexico has great diversity in its geography, culture, and agriculture. Despite its somewhat arid climate, New Mexico is a leading producer of pecans, chili peppers, onions, and dairy products. Livestock production has been thriving in the state since the days of the early Western cattle drives.
The state also has the highest percentage of citizens with Hispanic ancestry (48% as of 2015) and the second largest percentage of Native Americans (10.6% in 2016).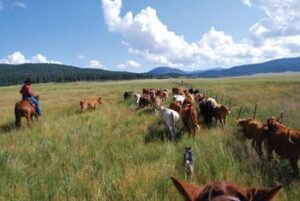 New Mexico AgrAbility Project partners include New Mexico State University Extension, the University of New Mexico School of Medicine's Division of Occupational Therapy, the New Mexico Technology Assistance Program, and Mandy's Farm, an organization that serves individuals with developmental disabilities through agriculture.
Some of the Project's target audiences include farmer veterans, Hispanics, women, and Native Americans. One of its novel initiatives is the es- tablishment of a farmer cooperative model that is self-governed by people with disabilities for the purpose of developing and sharing resources.
Project Co-director Dr. Carla Wilhite of the University of New Mexico has served on the staffs of Oklahoma AgrAbility and Colorado AgrAbility and is current a member of the National AgrAbil- ity Project Advisory Team.
South Dakota
The new AgrAbility project in South Dakota is one of the most unique that USDA has funded. Focused on the Pine Ridge Indian Reservation, the project seeks to address issues not tradition- ally focused on by AgrAbility, such as trauma, persistent poverty, and food insecurity. Pine Ridge is home to most of the Oglala Lakota Tribe, also known as the Oglala Sioux. In the Lakota language, the South Dakota AgrAbility Project is known as "Tatanka Ki Owetu," meaning "The Renewal."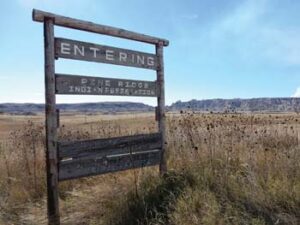 As part of the effort to serve tribal members, three incubator-hub sites will be located across the reservation to provide landless beginning farmers with access to land to start farming.
Each incubator site can also become a food hub where surplus produce can be aggregated and delivered to schools, elderly centers, food banks, and shelters across the reservation. The hubs will also have on site (or at least access to) assistive technology fabricators and equipment to develop AT locally, which reduces the costs and barriers facing new, disabled producers.
Another goal of the project is to produce new culturally sensitive AgrAbility-related materials or adapt existing materials so that they are appropriate for Native American audiences.