A COLLECTION OF ASSISTIVE TECHNOLOGY PRODUCTS IN AGRICULTURE
ATVs, UTVs, and their many attachments and accessories
For farmers and ranchers with mobility impairments, strength and endurance limitations, arthritis, and other problems, a utility vehicle (UTV) or an all-terrain vehicle (ATV) can be an invaluable work tool. This article does not address the multitude of different models of conventional UTVs and ATVs; rather, it lists some handy attachments and accessories that can help agricultural workers with disabilities, and it references one wheelchair-accessible UTV. See many more related solutions at www.agrability.org/toolbox.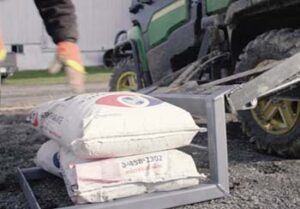 Strong Arm Lift for UTVs
With its multiple attachments, this driver's-side, bolt-on, hydraulic lift is designed to allow one to pick up and load into the vehicle's cargo bed all types of items (e.g., rocks, debris, hay, logs, feed, seed, fertilizer bags, even game animals) without having to leave the driver's seat. It's reportedly compatible with many Kubota, Deere, Kioti, and Polaris models. (Visit www.strongarmlift.com)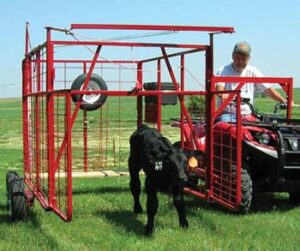 ATV/UTV-Mounted Calf Catcher
This is a wheeled cage for corralling a calf on pasture in order to treat it right there or transport it without an aggressive mother's interference. First towed behind then re-attached adjacent to the vehicle, the driver (via rope) latches open the spring-loaded gate, corrals the calf into the cage, then steps on a latch-release mechanism to close the gate. (Visit www.tinyurl.com/calf-catch)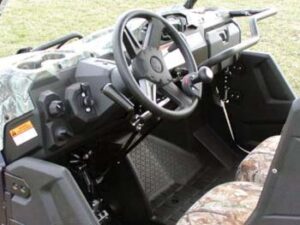 Hand Controls for UTVs
These consist of a handle attached to the steering wheel, shafts running down to the
gas and brake pedals, and a manual safety-lock system. For accelerating, the handle is eased back; for braking, it's pushed forward, which allows the driver to keep both hands on the wheel. The safety-lock will disable the acceleration function until released by a switch. (Visit www.suregrip-hvl.com)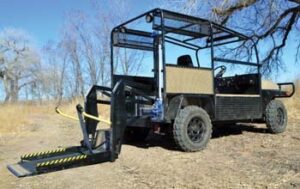 Buddy Buggy Wheelchair-Accessible UTVs
Its joystick-operated rear lift and behind-the-wheel docking system allows wheelchair users to access and drive this all-electric UTV most anywhere off-road at speeds up to 17 mph. Two
models are available: the 11-foot, 4WD, two- person Buddy Buggy with cargo bay and the 8-foot, 2WD, driver-only Buzz Buggy. (Visit www.buddybuggy.net)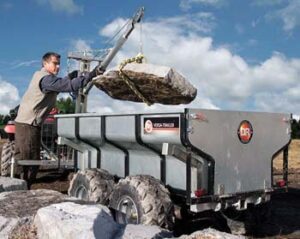 Boom-Lift Dump Trailer for ATVs/UTVs
This tow-behind trailer has a crank-operated boom lift that can reportedly hoist (from either side) loads weighing up to 440 pounds. Its all-steel bed features a steep (35°) dump angle, winch-assisted dumping action, side stabilizers, removable end panels,
pivoting hitch and jack stand, and tire-valve steel guards. (Visit www.drpower.com)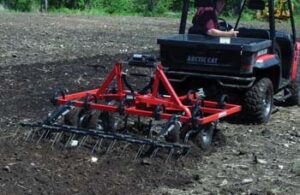 Tow-Behind Cultivators for ATVs/UTVs
Intended primarily for small-acreage plots, these tow-behind, two-wheeled implements accommodate various cultivating tools (e.g., shanks, shovels, tines, smooth or serrated discs) used to break up, ridge, or aerate the soil, smother weeds, etc. Most models feature levers to raise/lower the implement and adjust tool depth. (Visit www.tinyurl.com/ UTVcultivators)
* The authors assume no liability in connection with any use of the products discussed and make no warranty (express or implied) in that respect. References to products are not intended as endorsements to the exclusion of others that may be similar.