AgrAbility Harvest 2021
An ingathering of helpful information on disability in agriculture
Volume 12, Number 1
Two remarkable years would be an understatement in describing 2020 and 2021 for AgrAbility – and the rest of the world.
When COVID struck and restrictions were first instituted, AgrAbility was less than two weeks from its flagship event, the National Training Workshop (NTW), which had been scheduled for Madison, Wisconsin, in March 2020. Quick action was required, and the staff was able to reschedule for November. However, that too eventually had to be canceled, so many of the planned sessions were moved to virtual format for presentation in 2021 (see p. 5). As you might imagine, staff members had their hands full dealing with hotel contracts, travel reimbursements, and other issues related to canceling such a large event.
Like the rest of the world, AgrAbility had to make alternate (usually at-home) working arrangements. However, since one of our program's primary functions is to work with clients on their farms or ranches, staff again had to innovate. State AgrAbility projects began conducting virtual farm visits through a variety of means, including FaceTime, Zoom, and the use of satellite imagery to better understand the layout of their clients' operations.
The National AgrAbility Project (NAP) also produced resources to assist AgrAbility staff members and clients in facing the pandemic. The AgrAbility Updates newsletter was launched to provide increased communication, encouragement, and resources for staff, and a special web page of COVID-related resources was developed. NAP additionally recorded "virtual new staff training" sessions to compensate for lost sessions at the NTW and coordinated the inaugural AgrAbility Virtual State Fair (VSF) to make up for lost public awareness opportunities at the state and national levels. The VSF reached more than 29,000 individuals on Facebook and had over 70,000 Tweet impressions.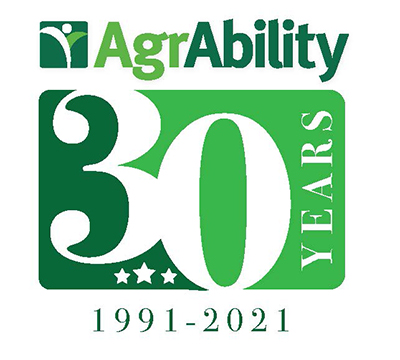 2021 is also a remarkable year for AgrAbility because it marks the program's 30-year anniversary. First authorized in the 1990 Farm Bill, AgrAbility began functioning in 1991 with eight state and regional "demonstration projects" and the NAP. With a slight increase in funding this year, the program is scheduled to have 21 state projects starting in September, in addition to the NAP.
AgrAbility and USDA are planning to acknowledge the 30-year milestone through multiple activities, including a celebration event (hopefully in-person), a commemorative publication, and a social media campaign.
Lastly, 2021 is significant because the competition for the NAP grant was held, and Purdue University's Breaking New Ground Resource Center was awarded the project for another four-year cycle. The Purdue team, along with its subcontractors and non-funded partners, looks forward to continuing to provide solid core services plus some innovative initiatives (to be described in future editions of AgrAbility Harvest).