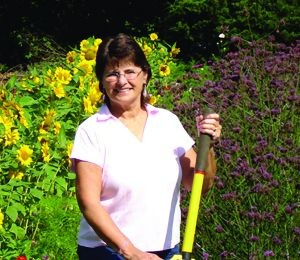 Factor V Leiden, a mutation of one of the clotting factors in the blood, is a condition that few people have ever heard of. In fact, Terrie Webb of Hopewell, Virginia, was unaware that she had it until a stroke impaired her right arm, initially causing near-total debilitation. Although surgery and therapy restored limited mobility, she was not able to function without great discomfort.
Terrie had just begun a commercial cut-flower business and was in need of assistance to keep the enterprise alive. That's when she turned to Virginia AgrAbility, which partnered with Virginia State University Cooperative Extension, the Woodrow Wilson Rehabilitation Center, and the Virginia Department of Rehabilitation Services. They assisted her in making tool adaptations to better accommodate her hand, developing better work postures, and implementing more effective planting and cultivating techniques. These allowed Terrie to foster what has become a successful and expanding agricultural enterprise.
"I would not be able to conduct my business without AgrAbility's involvement," she says. "I did not know the sources and resources to get the help I needed to assist me in being able to do my work until AgrAbility helped me out."
More AgrAbility: 25 Years, 25 Stories