Rosendo Ramirez: Ingenuity, perseverance, and AgrAbility help overcome amputation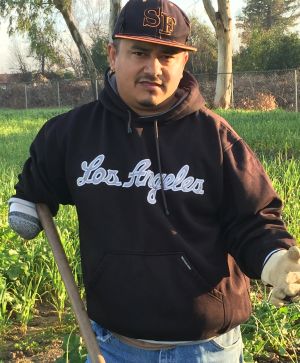 Rosendo Ramirez is a farmworker in California. He had specialized in picking fruits and vegetables until an accident in 2001 resulted in the amputation of his right arm. Knowing that he wouldn't be able to pick at an acceptable rate, he devised a way to hold a hoe and made his living hoeing weeds in the tomato, onion, and watermelon fields of Northern California.
When CalAgrAbility met Rosendo in 2013, he was exploring options for a prosthetic arm, but cost estimates of $20,000 disheartened him. However, CalAgrAbility connected him with a prosthetics company that provided pro bono work to help Rosendo get a prosthesis made and fitted.
With his new arm, Rosendo is able to pick watermelons efficiently and hold a knife safely when harvesting onions.  Now working as a foreman, he's very conscious and active in enforcing safe work practices with his crew. Furthermore, he has started his own farm, La Autentica Semilla. In 2015, CalAgrAbility facilitated Rosendo's and his wife's attendance at the Latino Farmer Conference in Fresno, where they learned about resources to help them continue to thrive in agriculture.