John Enns: Disability didn't keep him from agriculture or the state house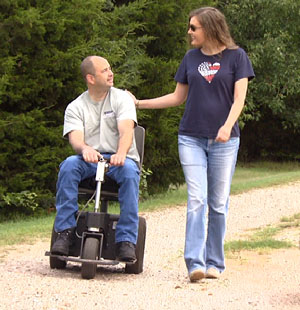 In 2004, John Enns was a full-time rancher/ farmer, as well as a microbiology teacher at Northern Oklahoma College.  However, on April 21 of that year, a piece of farm machinery that he was operating flipped over on him, causing a spinal cord injury and paralysis at the waist.
Months of rehabilitation were hard for John, especially being "cooped up" inside instead of out on his farm. However, he was soon in touch with Oklahoma AgrAbility, which helped him overcome obstacles that kept him from his livelihood. With assistance from Oklahoma Vocational Rehabilitation, he acquired lifts and hand controls for his tractor and truck, an all-terrain scooter, and other important technologies. John said, "Now I can get into the tractor; I can go out and do field work…which, it's one of those things, it's almost like therapy for me. You get out there and you feel like, 'Hey, you know what, I'm back home.'"
John didn't stop with a successful return to agriculture. In 2006, he ran for and won the District 41 seat in the Oklahoma House of Representatives. Currently in his fifth term, he is chair of the agriculture and rural development committee, and serves on three others, including veterans and military affairs.