Farmer Veteran Coalition w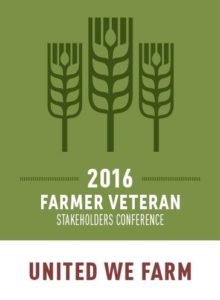 ill host the third annual Farmer Veteran Stakeholders Conference—United We Farm—November 30 to December 2, 2016 at Michigan State University in East Lansing, Michigan.

For the third consecutive year, farmer veterans from across the nation will come together for the largest gathering of the military and agricultural communities for three days of educational tracks, farm visits, guest panels, distinguished speakers, community and camaraderie building, and much more. Hosted at Michigan State University's spacious Kellogg Hotel & Conference Center, the conference unites farmer veterans with the agricultural, governmental and nonprofit groups that support them.
Click here for more information and to register.