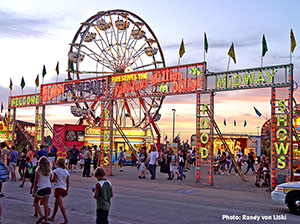 During October, AgrAbility projects from 20 states will join together online to participate in an AgrAbility Virtual State Fair (VSF) to provide resources and information for farmers, ranchers, and other agricultural workers who are working in production agriculture with a disability, functional limitation, or health condition.
Beginning October 1, each day a different AgrAbility project will highlight how it supports and serves this critically important population within that state's agricultural employment landscape. Content will be posted on Facebook and Twitter.
This year marks AgrAbility's 30th year of service.
Here are additional information sources from individual AgrAbility projects: 
National AgrAbility Project
https://www.facebook.com/nationalagrability
https://twitter.com/NatlAgrAbility
Alaska AgrAbility Project
https://www.facebook.com/AlaskaAgrAbility/
California AgrAbility Project
http://calagrability.ucdavis.edu
https://twitter.com/CalAgrAbility
Colorado AgrAbility Project
http://agrability.agsci.colostate.edu/
AgrAbility in Georgia
www.farmagain.com 
https://www.facebook.com/farmagain2
Kansas AgrAbility Project
www.agrability.ksu.edu
https://www.facebook.com/ksagrability
https://twitter.com/KSAgrAbility
https://www.instagram.com/ksagrability/
Maine AgrAbility
www.umaine.edu/agrability
https://www.facebook.com/MaineAgrabilityProject/
https://twitter.com/MaineAgrAbility
Michigan AgrAbility Project
www.michiganagrability.org
https://www.facebook.com/MichiganAgrAbility
Missouri AgrAbility Project
www.agrability.missouri.edu
https://www.facebook.com/MOAgrAbility
https://twitter.com/MOAgrAbility
https://www.instagram.com/moagrability/
Nebraska AgrAbility
http://agrability.unl.edu
https://www.facebook.com/nebraskaagrability
https://twitter.com/home
https://www.instagram.com
https://www.youtube.com/channel/UCWknaByEr05hAo0P4ZNuMAw?view_as=subscriber
North Carolina AgrAbility
www.ncagrability.org
https://www.facebook.com/pages/category/Disability-Service/NC-AgrAbility-258439014211547/
Ohio AgrAbility
www.agrability.osu.edu
https://www.facebook.com/OhioAgrAbility
https://twitter.com/OhioAgrAbility
https://www.youtube.com/channel/UC4SqCKD1UNppiupXnJzWc2g
AgrAbility for Pennsylvanians
www.AgrAbilityPA.org
https://www.facebook.com/AgrAbilityPA/
https://twitter.com/AgrAbilityPA
https://www.instagram.com/agrabilitypa/
https://www.pinterest.com/agrabilitypa/_created/
https://www.youtube.com/channel/UCcHYBqKU7SOjGcM9lbWiKcA/videos?view_as=subscriber
Tennessee AgrAbility Project
https://ag.tennessee.edu/agrability
https://www.facebook.com/TNAgrability/
AgrAbility of Utah
www.agrabilityofutah.org
https://www.facebook.com/AgrAbility-of-Utah-at-USU-104675159591997/
AgrAbility Virginia
www.agrability.ext.vt.edu
https://facebook.com/AgrAbilityVA
https://twitter.com/agrabilityva
https://instagram.com/agrabilityva
Washington State AgrAbility Project
https://www.facebook.com/AgrAbilityWA
AgrAbility of Wisconsin
www.agrability.bse.wisc.edu
https://www.facebook.com/agrabilityofwi/
https://twitter.com/AgrAbilityWI