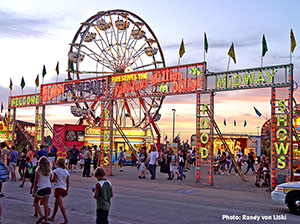 During October, AgrAbility projects from 19 states will join together online to participate in an AgrAbility Virtual State Fair (VSF) to provide resources and information for farmers, ranchers, and other agricultural workers who are working in production agriculture with a disability, functional limitation, or health condition.
Beginning October 1, each day a different AgrAbility project will highlight how it supports and serves this critically important population within that state's agricultural employment landscape. Content will be posted on Facebook and Twitter:

"Across the country, state and county fairs, as well as other agricultural events, have been canceled or postponed due to concerns for safety and health amidst the COVID-19 (coronavirus) pandemic," said Paul Jones, project manager of the National AgrAbility Project (NAP). "A conversation started this summer: 'What if we held an AgrAbility Virtual State Fair as a way to reach people who may be living and working with a disability in agriculture so that we can tell them we are here to support them and we want to see them succeed.'"
In additional to NAP, state projects that will participate in the AgrAbility VSF include: Alaska, California, Colorado, Georgia, Indiana, Iowa, Kansas, Maine, Michigan, Missouri, Nebraska, North Carolina, Ohio, Pennsylvania, Tennessee, Utah, Virginia, Washington, and Wisconsin. Weekends will focus on special topics, such as veterans and caregivers. Here is the current schedule. You can click on each state name for contact information.
| | |
| --- | --- |
| October 1 | Introduction to AgrAbility |
| October 2 | National AgrAbility |
| October 3 | Weekend focus: National Disability Employment Awareness Month |
| October 4 | Weekend focus: National 4-H Week |
| October 5 | North Carolina |
| October 6 | Iowa |
| October 7 | Missouri |
| October 8 | Alaska |
| October 9 | Nebraska |
| October 10 | Weekend focus: Veterans in agriculture |
| October 11 | Weekend focus: Farm stress and mental health |
| October 12 | Ohio |
| October 13 | California |
| October 14 | Utah |
| October 15 | Wisconsin |
| October 16 | Virginia |
| October 17 | Weekend focus: Assistive Technology |
| October 18 | Weekend focus: Assistive Technology |
| October 19 | Pennsylvania |
| October 20 | Maine |
| October 21 | Georgia |
| October 22 | Kansas |
| October 23 | Washington |
| October 24 | Weekend focus: Caregivers |
| October 25 | Weekend focus: FFA |
| October 26 | Indiana |
| October 27 | Michigan |
| October 28 | Tennessee |
| October 29 | Colorado |
| October 30 | Wrap-up day |