AgrAbility authorized through 2023, appropriated through September
The 2018 Farm Bill included continued authorization for AgrAbility during the fi e-year life of that piece of leg- islation. The only change related to AgrAbility was the clarifi that veterans with disabilities are eligible for AgrAbility services if they, "are engaged in farming or farm-related occupations; or are pursuing new farming opportunities.'' (emphasis added).
  The current USDA budget, which includes funding  for AgrAbility, is valid through September 30, 2019. AgrAbility has not been included in any of President Trump's budgets; however, the program has been added back into the federal budget through the actions of the U.S. House and Senate appropriations committees.
Longtime AgrAbility staff member retires
Chip Petrea, Ph.D., retired from the University of Illinois in December 2018, having served as principal research specialist in agriculture, agricultural safety and health. Chip dedicated his career to agricultural safety research and awareness, and he served several roles for Illinois AgrAbility Unlimited. He has also been heavily involved in the International Society of Agricultural Safety and Health (ISASH).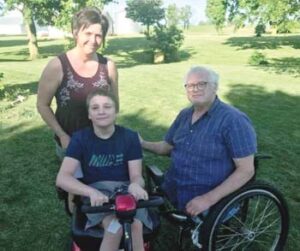 Chip became involved with AgrAbility in the early 1990s as a graduate student at the University of Illinois, where much of his work focused on evaluation and program improvement. He eventually became the client service manager for Illinois AgrAbility Unlimited. Chip also served as an evaluation specialist for the National AgrAbility Project during 2008-2016.
Illinois AgrAbility Unlimited and National AgrAbility Project are grateful for Chip's dedication throughout the years and look forward to his return to part- time work in the spring.