Veteran outreach remains strong
Agriculture continues to be a popular career option for military veterans, and AgrAbility services to this population continue to expand.
Numerous AgrAbility staff members joined nearly 500 other participants at the Farmer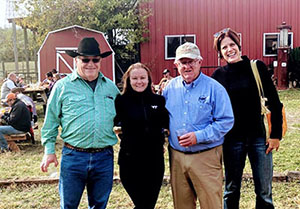 Stakeholders Conference sponsored by the Farmer Veteran Coalition (FVC) last November in Austin, Texas. Pictured at the event's opening barbeque are, from left to right, FVC Executive Director Michael O'Gorman, North Carolina AgrAbility Project Director Crystal Kyle, National AgrAbility Project Director Bill Field, and FVC Deputy Directory Sarah Da­chos. Also during that meeting, the Farmer Veteran Coalition of Illinois was chartered, with Kelly Gagnon of Illinois AgrAbility Unlimited as one of its board members.
Texas AgrAbility continues its BattleGround to Breaking Ground program, which provides agricultural training to veterans through workshops, webinars, and other means. Also, Indiana AgrAbility was part of a successful grant proposal in 2019 for the USDA's AgVets program. It will partner with other organizations to provide training and on-farm internships for veterans in Indiana and surrounding states.
Many other state AgrAbility projects also have veteran-related initiatives, and at least nine sessions at the upcoming NTW will address veterans' issues.

Remembering John Hancock
The AgrAbility family was saddened by the passing of John Hancock, long-time project director of Kentucky AgrAbility, on December 8, 2019, at age 59.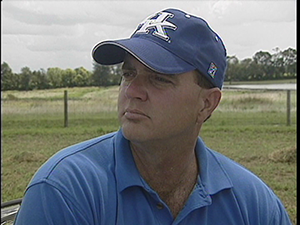 John started his career with University of Kentucky Extension as a county agent. However, in the summer of 1984 at the age of 24, he was involved in a motorcycle crash that left him with paraplegia. In 1993, he became the leader of the Kentucky AgrAbility program and continued in that role until 2019.
Over his tenure with the program, John helped thousands of farmers and agricultural workers with disabilities in Kentucky and throughout the United States, Canada, and as far away as Australia. He knew the problems these individuals and their families faced because he faced them himself every day, and he was instrumental in finding assistive technology to help minimize the effects of the injury or illness.
John once said, "Just like I was able to return to my job, a farmer who becomes disabled can return to his farm. He may need a bit of help here and there, but for the most part he is able to grow anything from a garden to thousands of acres...."
Thank you to Linda Bokros of Kentucky AgrAbility for contributing to this article.

NTW heads to Wisconsin
"The Big Dance" usually refers to the NCAA men's basketball tournament, but AgrAbility's version is its annual National Training Workshop. This year's conference, featuring four days of plenary sessions, tours, and breakout presentations, is scheduled for Madison, Wisconsin, on March 23-26.
Monday's preconference sessions will again include Mental Health First Aid, a popular eight-hour workshop that trains participants to be "first responders" in mental health crises. Also available on Monday is a tour of the University of Wisconsin Rehabilitation Hospital, among other offerings.
The Tuesday evening banquet will feature keynote speaker Davon Goodwin, a veteran, farmer, motivational speaker, and North Carolina AgrAbility client. Davon has been featured on several national media releases, including the PBS "Soldier's Harvest" series.
Thursday's tour stops include the U.S. Dairy Forage Research Center on the University of Wisconsin-Madison campus, AgrAbility client farms, a large dairy and cheese-making operation, and the Kuhn manufacturing plant.
Make plans to participate in this great conference. (You can still catch all of March Madness too!)