Pay It Forward
by Cheryl Tevis, who was senior risk management editor with Successful Farming magazine for many years. She is currently a freelance writer and editor with AgPerspectives, Inc. and president of Iowa Women in Agriculture.


One small misstep irrevocably altered the course of Keith Posselt's life. "As I was opening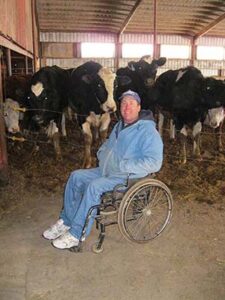 the silo door, my foot hit the safety latch, and I fell down the chute," he says.
That was 21 years ago. The Hortonville, Wisconsin, farmer turned 24 years old confined to a hospital bed, with a prognosis of lower-extremity paralysis. He underwent rehabilitation at Theda Clark Medical Center in Neenah, Wisconsin, for one month, and spent two more years in outpatient physical therapy.
"I was determined to do what the doctor said I'd never do—get myself up into a standing position and walk with leg braces," he says. Eventually, Posselt realized that strength of will alone wasn't enough to overcome this traumatic injury.
"I never thought of having a disabling injury," he says. "It's what happened to other people. I had to modify my routine fairly quickly. My first major goal was driving again."
Posselt had begun working for a neighbor when he was 13 years old. Today they are partners, growing corn, alfalfa, soybeans, and cover crops and raising Hereford beef cattle. "At first, some responsibilities shifted to my folks and other family," he says. "It took time for someone to come here to raise me into a bucket that I made, and into the tractor."
Assessing his farming needs
Paul Leverenz, AgrAbility of Wisconsin/Easter Seals Wisconsin FARM, recalls meeting Posselt in the hospital in 1997. After Posselt returned home to his farm in northeastern Wisconsin, Leverenz conducted a FARM assessment (Farm Assessment and Rehabilitation Methods). "Mobility and access to an old dairy freestall barn were his greatest challenges," he says. "Another challenge was getting in and out of the tractor."
Thanks to AgrAbility of Wisconsin's partnership with the Wisconsin Division of Vocational Reha­bilitation (DVR), Posselt applied for funding for assistive technology and equipment. He obtained automated lifts to get in and out of tractors, a swing gate that opens and closes from his chair, a system of conveyors for feeding cattle, and hydraulic tractor hitches.
"It's much safer, and allows me to be more independent," he says. He relies on a John Deere Gator to get around the farm.
Leverenz and AgrAbility recommended building an addition to the barn, eliminating its open front, reducing the slope to a sliding barn door gate, and easing access from Posselt's vehicle to his wheel­chair during the Wisconsin winters.
"Keith is committed to feed quality, and wanted to keep using the silo," Leverenz says. "Silos are a challenge for people with chairs."
Posselt adds, "Before my injury, we lifted a lot of feed bags. Now I just hit a button and let it run 10 minutes. It's easier—not just for me––but for Mom and Dad, and my neighbor. It saves their knees from the strain of lifting."
Like all farmers, Posselt adapts to changing production and agronomic practices. In 2006 he and his partner switched to narrow-row corn. "We had to buy a two-wheel drive tractor, and my lift wouldn't work with it," he says. "With help from AgrAbility and DVR, we added a different lift."
Posselt scouts for ideas to make equipment more user-friendly. "If you give AgrAbility a chance to understand your issues, it's there to help overcome roadblocks,"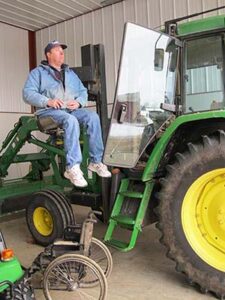 he says.
AgrAbility staff members sometimes look to other states for help in assisting clients. In Posselt's case, AgrAbility of Wisconsin is collaborating with professionals in Kentucky to modify a skid steer loader for him. A vehicle modification specialist is building on a concept developed by the late John Hancock, former Kentucky AgrAbility Project director.
The National AgrAbility Project's Toolbox Assistive Technology Database, an online resource, also offers more than 1,550 assistive technology solutions. www.agrability.org/toolbox
Assistive technology equalizes abilities
Posselt believes in paying it forward. He opens his farm to the 120 members of the AgrAbility Farm Network to demonstrate how he's overcome problems.
Posselt also participates in a Neighbor-to- Neighbor program aimed at helping new AgrAbility clients see how assistive technology can help them continue farming.
"Keith's been a mentor to many others," Leverenz says. "He does more for us than we do for him."
Posselt adds, "Times change, and people before me paved the way to help me get around. The Americans with Disabilities Act is the ideal standard for accessibility. My community has been supportive."
Posselt also has been a Calumet County Youth Safety Day volunteer. "Assistive technology isn't just for people in wheelchairs," he says. "Eye glasses, hearing aids, canes, light switches, and remote controls for cars and tractors serve the same purpose. We need to teach the next generation that everyone has challenges and needs help. Being in a wheelchair isn't so different."
He's also a founding member of the Easter Seals Wisconsin Calf Project. Members can donate feed or a calf. The Project has raised $40,000 for Easter Seals Wisconsin FARM Program since 2012.
When Posselt was named Easter Seals Wisconsin's 2014 Outstanding Volunteer, he demonstrated his modest, self-deprecating sense of humor. "This award goes against everything I was taught in life," he said in his acceptance speech. "It shows I can get noticed in a positive way while sitting around all day long."
Posselt, who describes himself as physically challenged, added, "Stairs are one physical challenge I face in life. I find ways to do it using elevators, ramps, a lift from family and friends, and always lots of people offering a good old-fashioned swift kick."
His SUV is equipped with hand controls, and his wheelchair is collapsible. Posselt has driven to National AgrAbility Project conferences and workshops in Tennessee, Colorado, New York, Kentucky, and Maine. "If you love what you're doing, you do everything you can to keep going, and enjoy it," Posselt says.
"AgrAbility isn't just about one person, but the whole group coming together to share ideas to make farming easier, and help give us all purpose in life."
Keith Posselt is scheduled to participate in the 2020 AgrAbility National Training Workshop in Madison, Wisconsin. Get more information at www.agrability.org/ntw.