The National AgrAbility Project produces news-related publications, listed below, that share success stories, discuss available resources, announce and/or report on special events, address current and emerging assistive technologies, and cover various other topics of interest.
---
Latest News
AgrAbility: A USDA Program with Demonstrated Impact, a 4-page publication, contains a basic description of AgrAbility's services, key statistics about the program's outreach and impact, and a success story of a program client. Featured is a recent study that indicates a significant increase in quality of life and independent living and working levels for AgrAbility clients as
After the president's initial budget recommended eliminating all USDA funding for AgrAbility/farm safety, both the U.S. House and Senate Appropriations Committees recommended restoring AgrAbility/farm safety funding at its current level. However, this does not guarantee that AgrAbility funding will be included in the final federal budget for FY18. The process, in short, is (according to
NOTE: see the newer post on the House Appropriations Committee recommendation to restore AgrAbility funding. _________________________________________ Over the past 25 years, USDA/NIFA has been able to support the AgrAbility Program as part of discretionary appropriations under the line item "AgrAbility/Farm Safety." Since 2015, the line item has provided an annual sum of $4,601,000 to support
WEST LAFAYETTE, Ind. – The National AgrAbility Project has released a new video explaining the therapeutic and economic benefits of agriculture for current and former members of the armed services and how veterans can successfully transition into careers in farming.The video, called "The Next Mission: Breaking Down Barriers for Veterans in Agriculture" is posted on
Inspiring video about what AgrAbility, VR (vocational rehabilitation services), and our clients can do. William Meyer has a T-4 spinal cord injury but has returned to his fields and to horseback to continue working the family cattle operation.
This 23-page booklet covering topics like arthritis basics, gardening pre-planning, tools and accessories, overall health, pain management, and small scale fruit and vegetable production. A Spanish translation is available from the Arthritis Foundation Get a copy or link to the translation.
Check out this article, A Growing Need for Accessible Agriculture, on AgrAbility posted by INDATA, Indiana's assistive technology program and collaborating organization on the Indiana AgrAbility Project. Read the article.
---
AgrAbility Harvest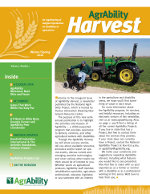 AgrAbility Harvest is a newsletter that highlights the activities and impacts of AgrAbility, and is designed for agricultural producers, AgrAbility staff members, rehabilitation specialists, agriculture professionals, educators, legislators, or anyone else with an interest in the agriculture and disability arena. It is published in both electronic and print formats, and to receive print copies, please email agrability@agrability.org with "Newsletter" in the subject line.
AgrAbility e-Note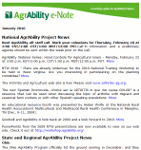 The AgrAbility e-Note is a monthly electronic publication primarily targeting AgrAbility staff members, but containing information that may be of interest to others. It focuses on current activities from the National and State/Regional AgrAbility Projects, and contains listings of upcoming events, plus links to stories about AgrAbility from other media outlets.
2017
2016
2015
2014
2013
2012
2011
2010
2009