The National AgrAbility Project produces news-related publications, listed below, that share success stories, discuss available resources, announce and/or report on special events, address current and emerging assistive technologies, and cover various other topics of interest.
---
Latest News
In order to stay on the cutting edge of web technology, the National AgrAbility Project has converted over from the former desktop-only web content to a new mobile-optimized website.

New features of the site include:
Mobile friendly "responsive" design

Compensates for the user's screen size for better mobile viewing
Intelligent image loading (performance enhancing)
More current look and feel and more images

More usable content based upon usability tests with AgrAbility staff
Easier access/viewing for The Toolbox AT Database while in the field
Improved Frequently Asked Questions interface
Better social media integration
When you go to the site, please send comments, questions, or criticisms through the use the Contact Us form on the agrability.org or to racz@purdue.edu.
This 23-page booklet covering topics like arthritis basics, gardening pre-planning, tools and accessories, overall health, pain management, and small scale fruit and vegetable production. Get a copy.
As AgrAbility celebrates its 25-year anniversary during 2016, we're highlighting
25 of the thousands of stories that illustrate how the program has impacted the lives of people
all around the nation, and even those in other countries.
The AgrAbility Virtual National Training Workshop (VNTW) is the foremost online educational event addressing issues related to disability in agriculture. The mission of the NTW is to empower professionals and consumers through education, networking, assistance, and marketing.

Check out this
article
, A Growing Need for Accessible Agriculture, on AgrAbility posted by INDATA, Indiana's assistive technology program and collaborating organization on the Indiana AgrAbility Project.
Read the article
.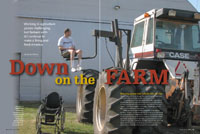 Down on the Farm
, by Devon O'Brien/PN magazine, views AgrAbility through the lens of two success stories.
devon@pvamag.com
.
---
AgrAbility Harvest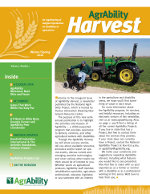 AgrAbility Harvest is a newsletter that highlights the activities and impacts of AgrAbility, and is designed for agricultural producers, AgrAbility staff members, rehabilitation specialists, agriculture professionals, educators, legislators, or anyone else with an interest in the agriculture and disability arena. It is published in both electronic and print formats, and to receive print copies, please email agrability@agrability.org with "Newsletter" in the subject line.
AgrAbility e-Note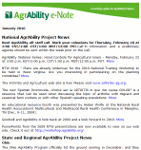 The AgrAbility e-Note is a monthly electronic publication primarily targeting AgrAbility staff members, but containing information that may be of interest to others. It focuses on current activities from the National and State/Regional AgrAbility Projects, and contains listings of upcoming events, plus links to stories about AgrAbility from other media outlets.
2016
2015
2014
2013
2012
2011
2010
2009
AgrAbility Quarterly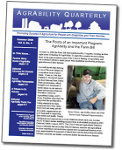 The AgrAbility Quarterly newsletters were produced when the National AgrAbility Project was located at the University of Wisconsin-Madison, 2001-2008. The archive of all issues can be found through the UW Cooperative Extension atfyi.uwex.edu/agrability/newsletter/